The BBC reported Street and Walton as two of the worst places for flooding today. They quoted Norman Evans of the Fire Service:
Road conditions were "atrocious", he said. The worst hit areas were said to be Chard, Ilminster, Shepton Mallet and Street.

In the village of Walton, near Street, residents Jane and Tony Bird said their 11-year-old son, Jack, who had slept on a mattress downstairs with friends, woke up floating.
I didn't see any of it, but the assistant in the local shop said she had seen roads flooded and that her father had experienced worse road flooding. Someone said this evening that fields were not flooded where she went today. People are blaming poor road maintenance and the fact that drains are no longer kept clear.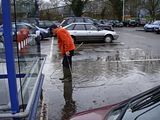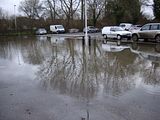 I saw an example of that in miniature in Sainsbury's car park at mid day. There was a large area of flooding when I arrived, but someone with tools was feeling around for the drain, and when I came out the lake had disappeared. I've posted the photos I took.