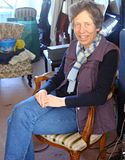 The other day Lynda Goss visited me and we had a good chat. Can't remember if I mentioned that, but I mentioned her among the ARLT friends that I met, or missed, in Cambridge.
She took back into her safe keeping the albums which I borrowed and scanned for
the ARLT website.
It is a relief to hand back responsibility for these historic documents.