Well, it seemed like a miracle to me. After spending the morning in bed, and enjoying visits from Michael, and from Bob Parker, fresh from the Caribbean, I was invited to a have a bath without the electric mechanism that gets me in and out (and incidentally makes it difficult to lie down and relax. When I began to get into the hot water I noticed not only my three new rubber ducks, but the bath surrounded by celandines picked by Charlie. It quite broke me up and released the tear-ducts!
Meanwhile Michael and Trevor held deep and detailed talk about making one more audio CD of seven of Michael's pieces that we had managed to record. We hope that a disc called Parsons Plays Kidd will emerge soon, for very limited distribution - not commercial at all.
Next (after entertaining the GP in the bath - my Grande Levee, like Louis XIV's) - I welcomed Trevor's invitation to come out and enjoy the sunshine. And what sunshine, what a perfect spring day. We drove gently up to the parking place near the windmill, and relaxed there in the late afternoon warmth for an hour and more.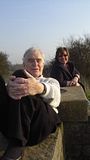 The wonderful thing for me was that although I left the house feeling that everything was becoming an effort, by the time Trevor had pushed me in the wheelchair half way to the top of the viewing hill I was getting out and walking, and feeling all the better for it.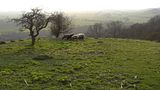 The views of the Levels are superb, and we also took our lives in our hands and crossed the road to admire the Walton views. By the time the breeze was blowing slightly chilly and we thought we should return home, the sun outlined the sheep in a most pleasing manner.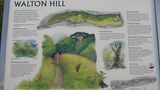 An interpretation board was helpful. I remembered how hard we found it in the Street Society to get even something that passers-by would take for granted to be constructed, I think our board on the history of Street was definitely worth it.