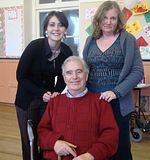 The last musical challenge that I had in mind happened today. A lively friend of Helen Lunt's, Julie, asked me some time ago if I would accompany her Grade 8 singing candidate Cat in the Associated Board exam today.
We had a few rehearsals - all too few - and today Cat came to collect me at noon and drove me, beautifully, to Chard Baptist Church where the exams are being held.
We arrived in good time, and were able to have a run-through in the church hall, where there was a perfectly acceptable piano.
One of the songs, Schumann's Widmung, is one that Helen and I have performed. Helen sings it in A flat, and at a speed that I got used to. Cat's book has it in G flat, the key with 6 flats including C flat, and Cat takes it much faster than Helen. It was fine, and the examiner after the song said "Thank you. You do realise what you are putting your accompanist through?" So I felt appreciated!
Anyway, it was good to have been able to fulfil that promise. I think Cat (on the left in the photo) will have done very well.
We had most interesting conversation in the car. We had both taken A level English Literature at the Strode, but with different teachers, and we shared our love of The Rime of the Ancient Mariner and of Wordsworth. I told her some of the stories of my family and she told me about her father's achievements and about her grandmother with a fund of family anecdotes. When I said I'd been listening to recordings of my Mother made by Robert 25 years ago, and urged her to record her grandmother, she thought it was a good idea.
Anyway, we got on like a house on fire, and I am so glad of the opportunity to have got to know her a little. Thanks, Cat, and thanks, Julie.
To be honest, the physical effort in playing the harder piano parts is now noticeable. I'll have to think carefully what else I want to play and possibly record.