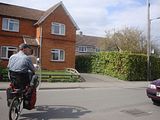 Trevor left at 1 pm for his Templecombe train. He was to chair a meeting in London.
I went out in wheelchair with Chacquie in sunshine this afternoon. The sun went in as we came to the door on our return.
I have been feeling very tired since then, but enjoyed the cordon bleu supper that Charlie rustled up.
I added some more to a piece for left hand and cello which I hope I shall still be able to play tomorrow.
Looking forward to quite a visitation tomorrow, including John Smart. So must get some sleep.